Agenda
February — Cannon and ship construction — TBA
February 24th—Pirate Rally to watch Krewe of Orpheus — TBA
February 24th—Late in the PM pirates go to sleep with visions of sugar rums dancing in their heads.
Mardi Gras Day!
February 25th

Captain's Call — 8AM — Port Casa Charles
Krewe Muster — 9AM — North Rampart and Spain
We launch from Spain!!!"
The March will commence come rain or shine we will depart prmptly around 9am-ish and make way through the Marigny territory until we make our first grounding at…
The R Bar — 9:30:00AM — 1431 Royal Street
Stragglers can met here before we venture in the French Quarter
Lafitte's Blacksmith Shop —10:15AM — 941 Bourbon Street
We sally forth into the French Quarter for our meet up at the illustrious Jean Lafitte's Blacksmith Shop where we let fly the wroth of our bead cannons!
Pirates Alley — approx. 1pm — 29.9580162, -90.06404179999998
Next we pillage and plunder our way to Pirates Alley where the grog will flow, the music will play and the wenches will swoon!
Once sated, we will embark to Napolean House and turn to face the oncoming battle Of Jackson Square.
Last Huzzah! — approx. 3pm ish — Frenchman and Royal
Victorious in Jackson Square, we meander towards the Marigny pausing one last time at Frenchman and Royal for the Last Huzzah! Finally, we will bring the fleet back to our port-of-call Port casa Charles and dock her for a well deserved rest around 4pm.

Approximate Route of the Krewe of Pirates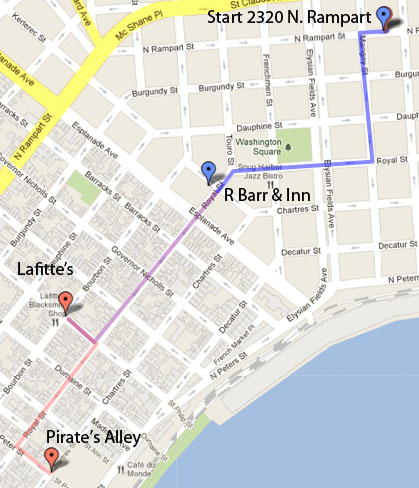 Our official route is only 1.1094697 miles make it fit for even the most scurvy of mates.